Crossing my Path, by Nilla Palmer
Situated high in the Rif Mountains, Chefchaouen is one of Morocco's most colourful towns and renown for buildings painted in many shades of blue-rinsed hues. Wander the hidden ancient alleyways and find yourself in a quaint little tea house, sipping black sweetened tea, infused with clumps of fresh peppermint.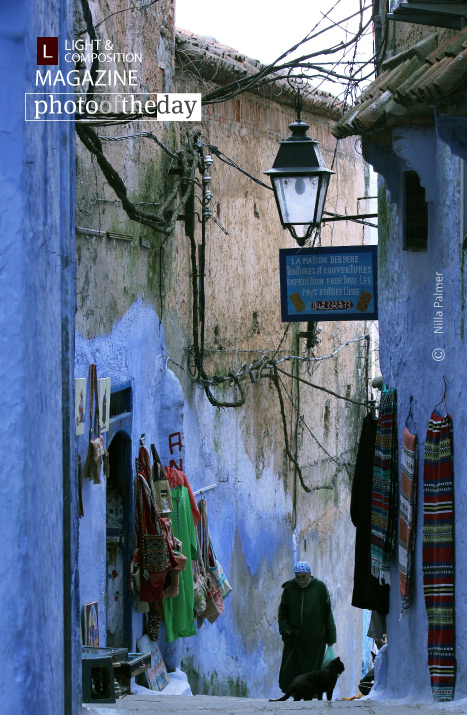 Technical Info: Canon EOS 550D | Exposure f/7.1 @ 1/60sec | ISO 100
Award Winner: Photo of the Day | February 08
Award Score: 71 (Value 13, Clarity 12.5, Composition 18.5, Style 13.5, Skill 13.5)
Title of the photograph: Crossing my Path
Photo of the Day Award Category: Street Photography
Photograph Location: Chefchaouen | Morocco
Photographer: Nilla Palmer (Brisbane, Australia) Registered
Nilla Palmer's natural desire to travel and photograph many parts of the world started 27 years ago. Although her photography addiction first started with a 110mm film camera, then progressing to 35mm cameras, a photography course, which included B&W darkroom techniques, and recently digital cameras. Nilla captures whatever strikes her at a precise moment but strives for images that will etch in people's minds. Nilla's intent is to reveal a story through her images for an audience, which she hopes inspires and encourages people to visit far off lands. She invites everyone to enjoy her gallery and feel free to contact her with any comments.
Portfolio: http://www.nillasphotography.com/
Facebook: https://www.facebook.com/NillasPhotography
Twitter: https://twitter.com/#!/nillasphotos