Grant My Prayers, by Shahnaz Parvin
This is my two years old nephew Fatin, supplicating for his grandfather, who passed away a year ago on that day. He is too young to speak properly, but the obedience he shows in praying amazed us all. Every day we find him raising his hand in supplications when other does. Maybe he is reminding us all, what we all should do, only worship Almighty Allah, and only ask for His aid. May Allah grant all the prayers of this little soul.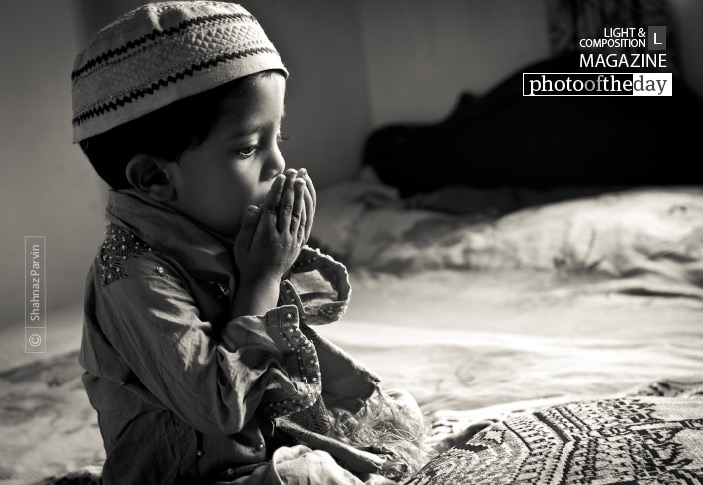 Technical Info: Canon EOS Kiss X4 | Focal Length: 30 mm | Exposure 1/13sec @ f/3.2 | ISO 100.
Award Winner: Photo of the Day | July 28
Award Score: 66.5 (Value 13, Clarity 12.5, Composition 17, Style 12.5, Skill 11.5)
Title of the photograph: Grant My Prayers
Photo of the Day Award Category: Islamic Photography
Photograph Location: Dhaka | Bangladesh
Photographer: Shahnaz Parvin (Dhaka , Bangladesh)
Shahnaz Parvin is a passionate Bangalee, who resides in Bangladesh. Though she is doing a job as system admin in a PSI company, her real passion lays in photography and learning it. Shahnaz mostly loves documentary photography, and loves to represent her country Bangladesh through her lens. Her images have been used on a number of renowned magazines in various countries.
Flickr: http://www.flickr.com/photos/_spark/
Facebook: http://www.facebook.com/profile.php?id=100001548214861
Twitter: https://twitter.com/#!/spark_bd