Your Gateway to Marvels, by Zahraa Al Hassani
From this uplifting verse of Holy Quran to the gateway of marvels, there are only two words in Arabic to achieve you mission, "Wa Bashshiri Aş-Şābirīn" – so trust in the reward of Allah, it is your happiness access key, and it is the mystery code of your life. Believe in His judgment, and let not forget to plead to Allah sincerely, be patient and persevere, Good things come to those who waits.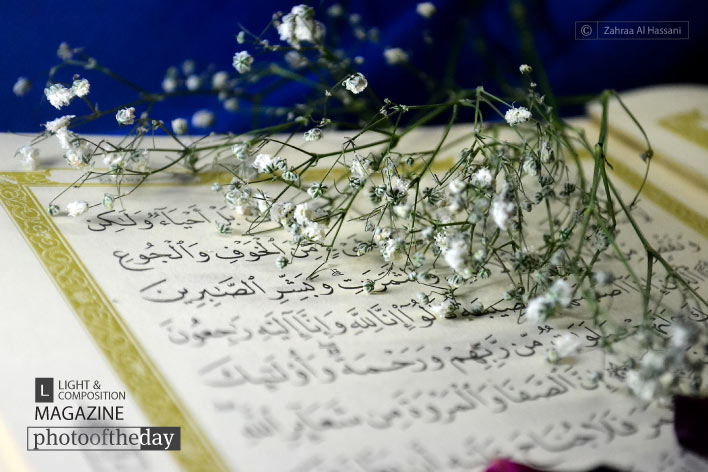 The verse of Quran in the photograph is from chapter two, it's a guidance that every Muslim should follow by heart. The highlighted part, those two Arabic words, "Wa Bashshiri Aş-Şābirīn," means Allah gives tidings to those who has patient. If one reads the translation, surely can follow these verses, they are the true guidance by our Creator – "And We will surely test you with something of fear and hunger and a loss of wealth and lives and fruits, but give good tidings to the patient. Who, when disaster strikes them, say, "Indeed we belong to Allah, and indeed to Him we will return." Those are the ones upon whom are blessings from their Lord and mercy. And it is those who are the rightly guided. (Quran 2:155-157)"
Technical Info: NIKON D3100 with 18-200mm VR | Exposure 1/320sec @ f/5.6 | Focal Length 50mm | ISO 3200.
Award Winner: Photo of the Day | September 28
Award Score: 66 (Value 12, Clarity 12.5, Composition 17, Style 11.5, Skill 13)
Title of the photograph: Your Gateway to Marvels
Photo of the Day Award Category: Islamic Photography
Photograph Location: Baghdad | Iraq
Photographer: Zahraa Hashim Salih Al Hasani (Baghdad,Iraq) Registered
Zahraa Al Hassani is a passionate photographer, lives in Iraq, and work as designer in Zain Telecommunications for more than 6 years. Resources in Iraq are mostly limited, thus she used her photography skills to get a visuals for her designs. She started photography with Sony H7 and Carel Zias lenses, and then moved to Nikon. Graphic Design has helped her to strengthen her photographic perspective. Zahraa believes she is here to acquire knowledge from the trove of purist photography.
Flickr: http://www.flickr.com/photos/31190914@N06/
Facebook: http://www.facebook.com/zahraa.h.salih
Twitter: https://twitter.com/ZahraaHasani