A Hard Day, by Preeti Patel
This late evening scene specially caught my eye as I was walking the grounds of Pushkar. The tired faces ,the resting camels seen through the smoke ,the tea boiling ,the shadows all drew me toward these people and I could not help but click though with unsteady hands as it was my very first episode with a DSLR.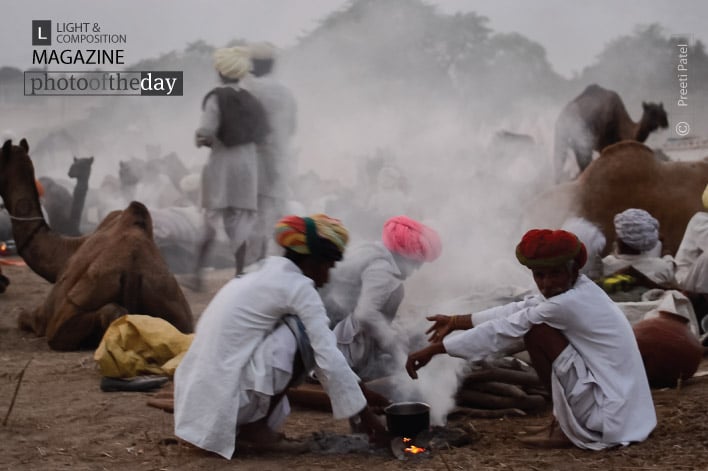 Technical Info: Nikon D3100 | Exposure 1/8sec @ f/4.5 | Focal length: 35 mm | ISO: 1600
Award Winner: Photo of the Day | April 04
Title of the photograph: A Hard Day
Photo of the Day Award Category: Street Photography
Photograph Location: Pushkar, Rajasthan | India
Photographer: Preeti Vinod Patel ( Nasik, India )
Preeti Vinod Patel is principal of a High School by profession. Photography for her was a hobby with a point and shoot camera, and which was a faithful
companion on her travels. She was presented her first DSLR 9 months back and since then she has tried her hands at every area of photography. Preeti enjoys shooting candid and street life as every emotion ,every expression, every face leaves her wondering what may be going on in the person's mind.
Her hobby which was a stress buster for her now is a thirst which will never quench.
Facebook: https://www.facebook.com/profile.php?id=100000452264433