Award Winner | Photo of the Day | August 08, 2012
You know how beautiful it looks when seeing bees in nature, gathering honey all the day from every shining flower. This is one of those beautiful moments, when I captured this bee pollinating in the all shades of green. This photograph was taken during my early photography days, when I used to take photos of every small detail I saw around me. During the off days, I used to visit areas around Dhaka, where one can feel the village atmosphere, and nature in beautiful color.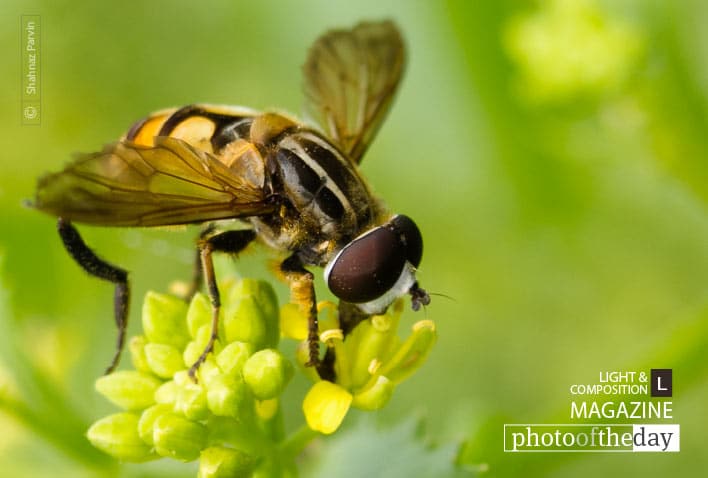 Technical Info: Canon EOS Kiss X4 | Focal Length: 49mm | Exposure 1/200sec @ f/5.6 | ISO 200.
Award Winner: Photo of the Day | August 08
Award Score: 64.5 (Value 12, Clarity 12.5, Composition 16, Style 11.5, Skill 12.5)
Title of the photograph: Bee in Shades of Green
Photo of the Day Award Category: Close-Up Photography
Photograph Location: Dhaka | Bangladesh
Photographer: Shahnaz Parvin (Dhaka, Bangladesh) Registered Photographer
Shahnaz Parvin is a passionate Bangalee, who resides in Bangladesh. Though she is doing a job as system admin in a PSI company, her real passion lays in photography and learning it. Shahnaz mostly loves documentary photography, and loves to represent her country Bangladesh through her lens. Her images have been used on a number of renowned magazines in various countries.
Flickr: http://www.flickr.com/photos/_spark/
Facebook: http://www.facebook.com/profile.php?id=100001548214861
Twitter: https://twitter.com/#!/spark_bd