Award Winner | Photo of the Day | September 29, 2012
I was crossing a wooden bridge over a water stream and saw this young boy swimming with a bucket of water to hold the fish caught by his father. His eyes were sparkling with joy and innocence. Those little eyes surely didn't see the hard part of life, all he knew that he is with his father, catching fish in the stream and that is enough to make him happier than any of us with all the earthly possessions.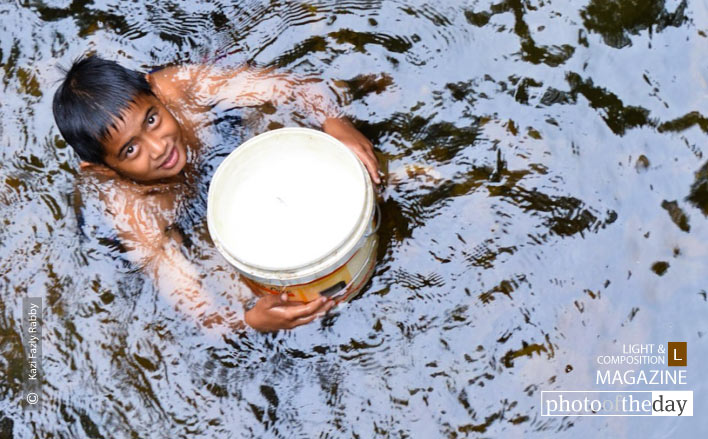 Technical Info: Nikon D7000 | Exposure 1/80sec @ f/4.5 | Focal Length 50mm | ISO 200 | EV -2/3
Award Winner: Photo of the Day | September 29
Award Score: 64.5 (Value 11, Clarity 12.5, Composition 16, Style 12, Skill 12.5)
Title of the photograph: Fisherman's Son
Photo of the Day Award Category: Portraiture Photography
Photograph Location: Matang, Sarawak | Malaysia
Photographer: Kazi Fazly Rabby (Kuching, Sarawak, Malaysia) Registered Photographer
Kazi Fazly Rabby is an aspiring photographer from Bangladesh, currently staying in Malaysia, in the state of Sarawak. Photography has always been a passion for him from the day he got his first Kodak Film camera back in 1998. After a long break from photography, in 2007 he found out that his passion for photography didn't die and it grew ever since. Nothing makes him happier but walking alone in the nature with his beloved camera and observe the beauty of the creation of Almighty.
Flickr: http://www.flickr.com/photos/26236506@N07/
Facebook: https://www.facebook.com/Skyther