Award Winner | Photo of the Day | September 22, 2012
He is Abdur Razzak, age 38, working in the Keraniganj dockyard. He doesn't have any room to take rest. Two years ago he came to Dhaka to find a job, and end up become a dockyard worker. Every month he sends 90% of his salary to his daughter and wife in the village. In this capital, no one knows him and maybe no one ever will, just like the millions coming and working here in Dhaka, fighting for life, for their basic need.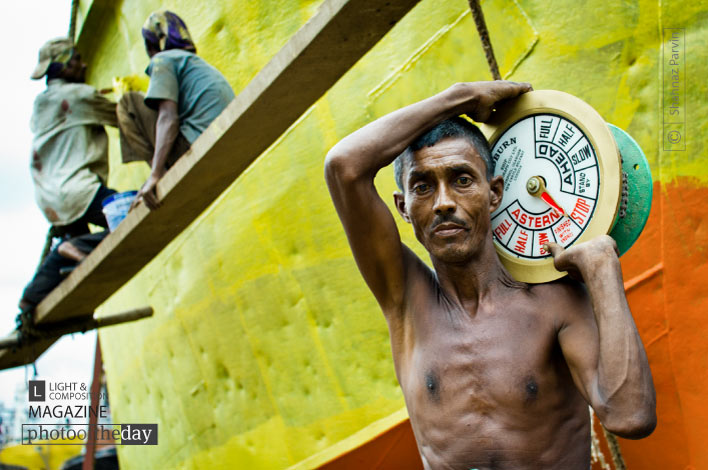 Technical Info: Canon Eos Kiss X4 with Sigma 30mm f/1.4 | Exposure f/4.5 @ 1/160sec | Focal length 30mm | ISO 400
Award Winner: Photo of the Day | September 22
Award Score: 67 (Value 11, Clarity 13.5, Composition 17, Style 12.5, Skill 13)
Title of the photograph: A Dockyard Worker
Photo of the Day Award Category: Portraiture Photography
Photograph Location: Keraniganj, Dhaka | Bangladesh
Photographer: Shahnaz Parvin (Dhaka, Bangladesh) Registered Photographer
Shahnaz Parvin is a passionate Bangalee, who resides in Bangladesh. Though she is doing a job as system admin in a PSI company, her real passion lays in photography and learning it. Shahnaz mostly loves documentary photography, and loves to represent her country Bangladesh through her lens. Her images have been used on a number of renowned magazines in various countries.
Flickr: http://www.flickr.com/photos/_spark/
Facebook: http://www.facebook.com/profile.php?id=100001548214861
Twitter: https://twitter.com/#!/spark_bd