Award Winner | Photo of the Day | October 30, 2012
In one winter I went to Kalnega National Park, in the north eastern part of Bangladesh. Just before entering into the forest I noticed this beautiful female Purple Rumped Sunbird, taking honey from this wild flower. It's a tiny bird not more than 10 cm long. These birds are widespread in southern India, Sri Lanka and Bangladesh. Like other sunbirds they are feeding mainly on nectar.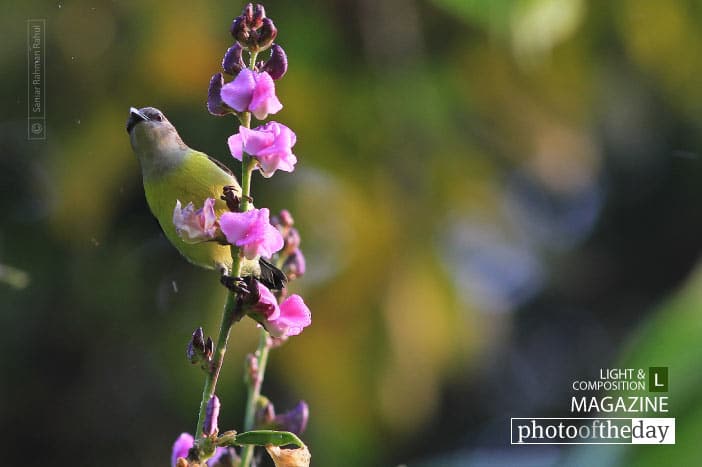 Technical Info: Canon EOS 7D with 300mm f/4L IS USM | ISO 200 | Focal Length 300mm | f/6.3 @ 1/250sec
Award Winner: Photo of the Day | October 30
Award Score: 67 (Value 13, Clarity 12, Composition 17, Style 13, Skill 12)
Title of the photograph: Purple Rumped Sunbird
Photo of the Day Award Category: Wildlife Photography
Photograph Location: Kalenga National Park, Habigonj, Sylhet | Bangladesh
Photographer: Saniar Rahman Rahul (Dhaka, Bangladesh) Registered Photographer
Saniar Rahman Rahul was the first winner for 'Photo of the Month Award' in June 2010. He was fascinated by seeing his father taking pictures with a camera while his family was in Iraq during his childhood. Later in life, in 1997, while he became very much attached with his profession of 'graphic design', Rahul rediscovered the creative side of photography. He started his career as a professional graphic designer in October of 1995, in a pre-press house called Color Scan, which is one of the pioneers in the pre-process printing media in Bangladesh. Afterwards, he moved to Power Point, another pre-press house. Before he finally settled into advertising, he also worked in an IT company called Abtab IT. Moving to advertising from printing media was a big step for him. In 2005, he joined G3, a special wing of Gray Worldwide. Two years later, he moved to Paper Rhyme, then to Pearl Communication. Now he is working as the Art Director of Grey World Wide, one of the ten largest advertising agencies in the world.
Portfolio: http://www.flickr.com/photos/srrahul/
Facebook: http://www.facebook.com/srahul