Award Winner | Photo of the Day | October 23, 2012
This was taken in in a tribal village named Manipuri Para in Srimongol, Sylhet. I went there with a group who was making documentary on people living there. Early in the morning I started to roam around all over the village, as I wanted to know the place. After sometimes I found myself in front of few houses there. By tradition Manipuri people are very colorful, but they are speaking in their native language Bishnupriya Manipuri. Though I hardly understood what they were talking about, but they were very friendly and welcoming. This jolly old woman saw me and came out wearing a colorful dress, meanwhile, her shy grand-daughter hiding herself seeing my camera, took a peek. This is one of those moments when she peaked. And I didn't miss the opportunity to take the snap.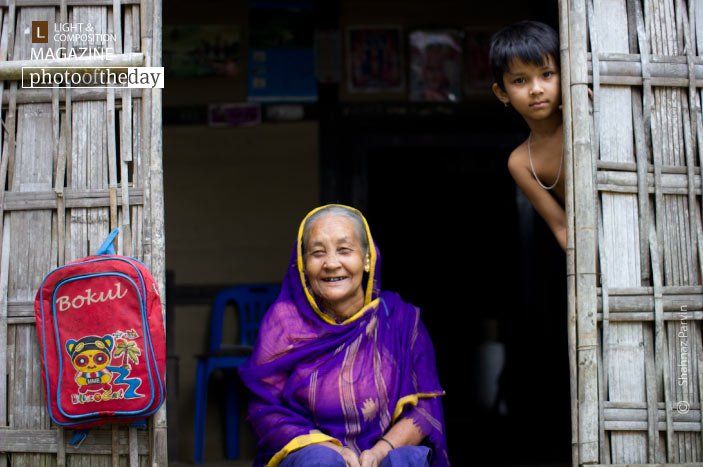 Technical Info: Canon Eos Kiss X4 with sigma 30mm f/1.4 | Exposure f/1.4 @ 1/200sec | Focal length 30mm | ISO 100
Award Winner: Photo of the Day | October 23
Award Score: 68 (Value 13, Clarity 12.5, Composition 17, Style 13.5, Skill 12)
Title of the photograph: Smile is All You Need
Photo of the Day Award Category: Travel Photography
Photograph Location: Manipuri Para, Srimongol, Sylhet | Bangladesh
Photographer: Shahnaz Parvin (Dhaka, Bangladesh) Registered Photographer
Shahnaz Parvin is a passionate Bangalee, who resides in Bangladesh. Though she is doing a job as system admin in a PSI company, her real passion lays in photography and learning it. Shahnaz mostly loves documentary photography, and loves to represent her country Bangladesh through her lens. Her images have been used on a number of renowned magazines in various countries.
Flickr: http://www.flickr.com/photos/_spark/
Facebook: http://www.facebook.com/profile.php?id=100001548214861
Twitter: https://twitter.com/#!/spark_bd