Award Winner | Photo of the Day | October 09, 2012
Remember the last trip I went to Sonargaon, the ancient capital of Bengal, where little boys were floating like lily flower. While coming back from there I suddenly saw these boys in the middle of rice paddy field. They were just opposite to my boat, and trying hard to cross the flooded parcel full with green paddy. They looked adventurous, and in the middle of vast green they were like grasshoppers going on a voyage through nature.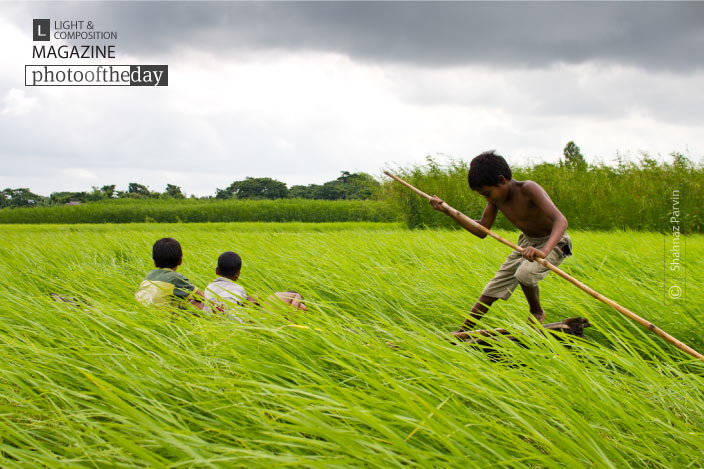 Technical Info: Canon Eos Kiss X4 with sigma 30mm f/1.4 | Exposure 1/500sec @ f/5 | ISO 100 | Focal Length 30mm
Award Winner: Photo of the Day | October 09
Award Score: 66.5 (Value 11, Clarity 12.5, Composition 16.5, Style 13, Skill 13.5)
Title of the photograph: Voyage Through Nature
Photo of the Day Award Category: Color Photography
Photograph Location: Sonargaon, Narayanganj | Bangladesh
Photographer: Shahnaz Parvin (Dhaka, Bangladesh) Registered Photographer
Shahnaz Parvin is a passionate Bangalee, who resides in Bangladesh. Though she is doing a job as system admin in a PSI company, her real passion lays in photography and learning it. Shahnaz mostly loves documentary photography, and loves to represent her country Bangladesh through her lens. Her images have been used on a number of renowned magazines in various countries.
Flickr: http://www.flickr.com/photos/_spark/
Facebook: http://www.facebook.com/profile.php?id=100001548214861
Twitter: https://twitter.com/#!/spark_bd