Award Winner | Photo of the Day | May 23, 2011
As the sun set on Bear Lake, Colorado, I created this classic black & white image featuring granite rocks jutting from the water in the forefront, and lightly snow covered mountains behind. A dusk run-in with a very large wild animal is discussed in my blog post featuring this image.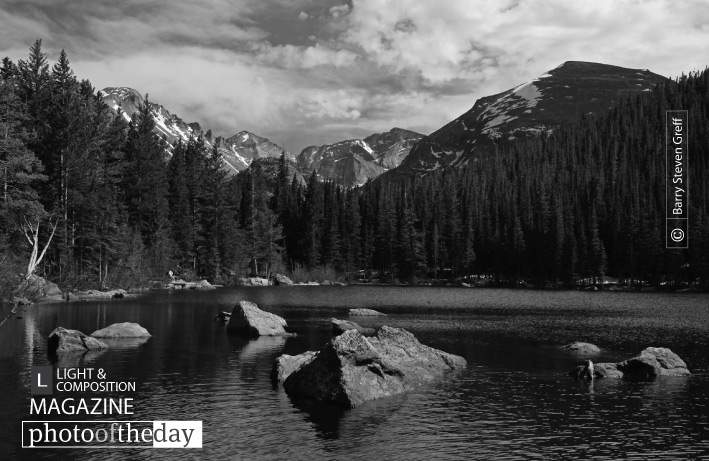 Technical Info: Canon EOS 5D Mark II | 1/100 sec. @ f/16.0 | ISO 100 | 40.0 mm
Award Winner: Photo of the Day | May 23
Title of the photograph: Rock Scenic
Photo of the Day Award Category: Landscape Photography
Photograph Location: Bear Lake, Colorado | United States
Photographer: Barry Steven Greff (Weston, Florida, USA )
Barry Steven Greff is a Fine Art Photographer who constantly seeks new wilderness locales to memorialize the best Mother Nature has to offer and capture the Earth's natural beauty in its most pristine state. While on location capturing ethereal sea and landscapes, he also makes close-up, intimate portraits of wildlife and jellyfish in his signature style. Greff has participated in numerous exhibitions at galleries such as Mason Murer Fine Art (Atlanta), The Center for Fine Art Photography (Ft. Collins, CO) and Camera Obscura Gallery (Denver, CO); and his prints can be found in both public and private collections. His work has earned numerous international awards in competitions juried by some of the most well-respected individuals in the photography community including principles from Sotheby's, the Tate Gallery, Magnum Photos and Photo District News (PDN). His work has been recognized by the Black & White Spider Awards, the International Color Awards, (Photography Masters Cup) and the International Photography Awards (IPA). His images have been published in Black & White Magazine, COLOR Magazine, Silvershotz (Brisbane/London) and PDN and he is available for commissions and assignments worldwide.
Website: www.barrystevengreff.com
Blog: www.adventuresfrombehindtheglass.com
Twitter: www.twitter.com/barrygreff