Award Winner | Photo of the Day | June 06, 2011
This photo was taken in Jama Masjid – beautiful mosque in Old Delhi, India. Every day thousands of Muslims come there to pray and spend some time studying Quran. I sat in a corner and observed the routine of all those people when I noticed this woman. I was instantly amazed by hear beautiful scarf and amazing henna painting on her hands.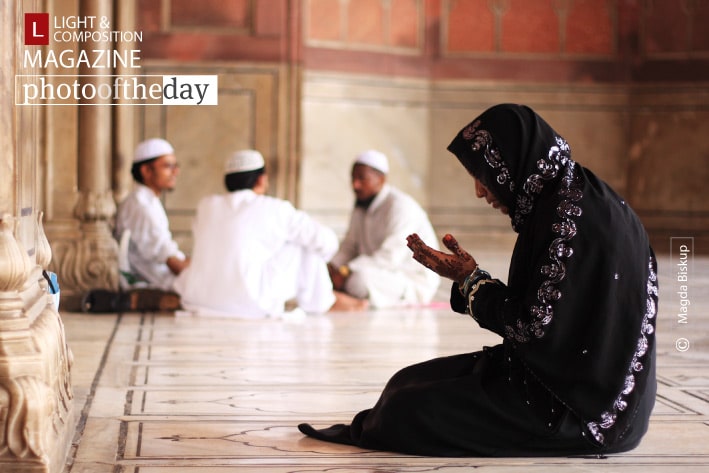 Technical Info: Canon 40D | 1/250sec @ f/1.8 | ISO 200 | Focal length 50mm
Award Winner: Photo of the Day | June 06
Title of the photograph: Praying
Photo of the Day Award Category: Islamic Photography
Photograph Location: Delhi | India
Photographer:Magda Biskup (Sydney, Australia)
Magda bought her first SLR camera 6 years ago, after spending a year working in Malaysia, where she fell in love with travelling. She traveled through 40 countries and majority of her photos are taken while on the road. Magda shots with Canon 40d and a selection of lenses, mostly 24-105mm f4 and 10-20mm f4.5-5.6. She was born and raised in Poland but is currently living in Sydney, Australia.
Photo Blog: http://www.destination-world.net
Flickr: http://www.flickr.com/photos/magdabis
Facebook: http://www.facebook.com/DestinationWorld
Twitter: https://twitter.com/#!/DestinatioWorld