Award Winner | Photo of the Day | July 27, 2012
The Holy Quran is the scripture which contains the complete guidance for mankind. It is a common practice for Muslim to read and recite the Holy Quran after the prayers, especially during morning and evening. The chapter open in the photograph is the 33rd Chapter of Quran, Surah Al- Ahzab, which means The Coalition, or The Combined Forces.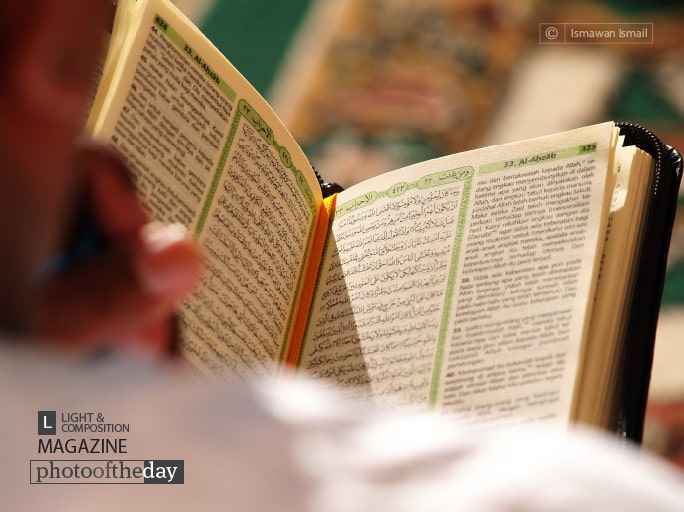 This chapter was revealed after chapter 3 – The House of Imran, and before Chapter 60. It contains 73 verses arranged in nine sections, all of which were revealed in Madina, and it starts like this, "01. O Prophet, fear Allah and do not obey the disbelievers and the hypocrites. Indeed, Allah is ever Knowing and Wise. 02. And follow that which is revealed to you from your Lord. Indeed Allah is ever, with what you do, Acquainted. 03. And rely upon Allah; and sufficient is Allah as Disposer of affairs…
Technical Specs: Olympus E-300 with Zuiko lens 50-200mm | Focal Length 182mm | Exposure f/5.6 @ 1/800sec | ISO200
Award Winner: Photo of the Day | July 27
Award Score: 59 (Value 10.5, Clarity 11.5, Composition 15, Style 10.5, Skill 11.5)
Title of the Photograph: Recite
Photo of the Day Award Category: Islamic Photography
Photograph Location: Kuala Kencana, Papua | Indonesia
Photographer: Ismawan Arief Ismail (Kuala Kencana, Papua, Indonesia)
Ismawan Ismail born in 1972 and started to take pictures using pocket camera since his high-school days. An IT executive at a mining company located in Papua, Indonesia that started his IT career from a computer hobbyist, he is hoping that someday photography can also be another hobby-to-career move for him, as he already started taking photo assignments and selling stock photos.
Portfolio:http://izzy04.multiply.com/photos
WordPress: http://izzy04.wordpress.com
Facebook:http://www.facebook.com/ismawanismail
Twitter: http://twitter.com/izzy004