Award Winner | Photo of the Day | July 22, 2012
Iftar, refers to the evening meal when Muslims break their fast during the Islamic month of Ramadan. Iftar is one of the religious observances of Ramadan and is often done as a community, with people gathering to break their fast together. Iftar is done right after Maghrib (sunset) time. Traditionally, a date is the first thing to be consumed when the fast is broken. Many Muslims believe that feeding someone iftar as a form of charity is very rewarding and that it was practiced by Prophet Muhammad (PBUH).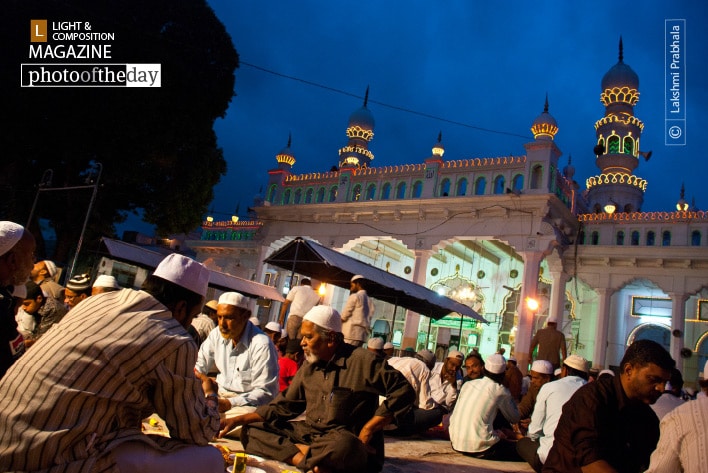 Technical Specs: Nikon D80 | Exposure: f/4 at 1/25sec | ISO 640 | Focal Length 18mm
Award Winner: Photo of the Day | July 22
Title of the Photograph: Iftar
Photo of the Day Award Category: Islamic Photography
Photograph Location: Hyderabad | India
Photographer: Lakshmi Prabhala (Hyderabad, India)
Lakshmi Prabhala is totally taken in by photography as a medium. She believes, photography allows one to look at the world in totally different perspective, trains one's eyes to see the world in better light and look for beauty in the most unexpected of places. It is indeed very surprising that so much can be learnt and understood about this world just by freezing a frame for a fraction of a second.
Portfolio: http://hydandseek.wordpress.com/
http://floatstheboat.wordpress.com/
Flickr: http://www.flickr.com/photos/lakshmi
Facebook: https://www.facebook.com/lprabhala
http://www.facebook.com/pages/Lakshmi-Prabhala-Photography/164106961131?ref=ts
Twitter: https://twitter.com/lakshmiprabhala