Award Winner | Photo of the Day | August 19, 2010
Aimlessly walking the beach each day taking photos, I've been doing this for two weeks now, and then one day, when i was walking with my friends, i saw a balloon man walking around the beach. Suddenly i got an idea! I just took the photograph of that guy with the background of splendid sky , It was on August 9, 2010, 6.42 pm.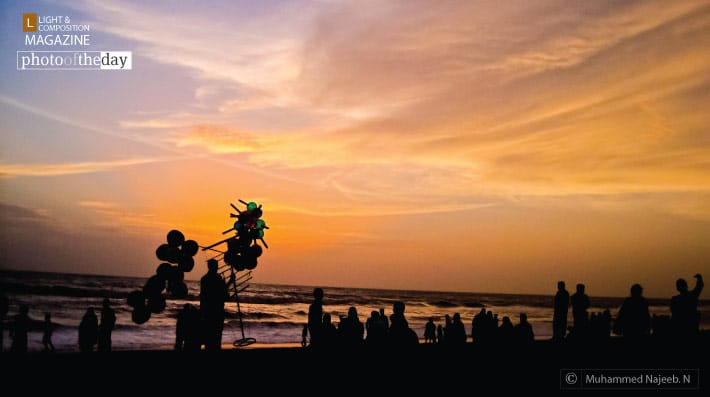 Award Winner: Photo of the Day | August 19
Photograph Title: The Broken Balloon…
Photo of the Day Award Category: Sunrise & Sunset Photography
Photograph Location: Kerala | India
Photographer: Muhammed Najeeb. N ( Calicut, Kerala, India)
Muhammed Najeeb is a Film Visual effects Student & Photography Enthusiast with extensive talent and creative skills coming from god's own country Kerala, India. He has learned photography basics from his former art teacher of high school. After Academic studies he joined Arena Academy for Diploma in Media Studies. Without the aid of any professional equipments he has taken all photos with the help of a Canon Ixus 95 10 mega pixel point & shoot camera. Also he was a contestant in HP Space Creative Reality Show held in Mumbai . He is currently doing a Specialization Diploma in Film Visual Effects from Clusters Collage for Media & Design.
Online Portfolio: http://www.fluidr.com/photos/najeebcreatives
Flickr: http://www.flickr.com/photos/najeebcreatives
Website: http://www.wix.com/najeebcreatives/najeebcreatives
Facebook: http://www.facebook.com/najeebcreatives
Twitter: http://twitter.com/najeebcreatives
Blog: http://najeebcreatives.blogspot.com/